The Blue Light is your one-stop resource to Montana State University–Bozeman. With everything from articles on Bozeman's best studying spots and fishing holes to money-saving coupons for food and gear, the Blue Light's got your Montana collegiate experience—both in and out of the classroom—covered. Pick up a copy at the SUB, the Fitness center, the Outdoor Rec Center, or one of the many other locations listed here.
The Blue Light Guide is the official pocket guide of Montana State University and an official partner of the MSU Alumni Association.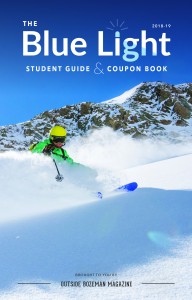 Check out our digital edition.
 Outside Media Group • PO Box 1101 • Bozeman, MT 59771 406-582-8068 • [email protected]